Northwell Health's Dr. Zenobia Brown Named to Modern Healthcare's 2023 Top Innovators List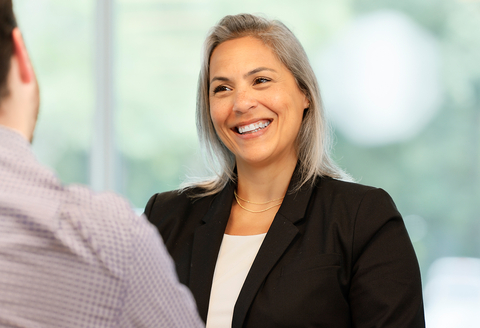 September 22, 2023 10:25 AM Eastern Daylight Time
NEW HYDE PARK, N.Y.–(BUSINESS WIRE)–Northwell Health's Zenobia Brown, MD, MPH, senior vice president, associate chief medical officer and executive director of Northwell Health Solutions, is recognized by Modern Healthcare as one of the Top Innovators 2023. The prestigious honor spotlights leaders solving health care's biggest challenges through out-of-the-box and often unconventional solutions. Dr. Brown's profile and the other featured nominees can be read at ModernHealthcare.com/Top-Innovators.
"As New York's largest health system with more than 5.5 million patient encounters every year, it is no small task to constantly improve how care is delivered"Tweet this
"It's an honor to be named a Modern Healthcare Top Innovator among so many other leaders and disruptors in this space," said Dr. Brown. "Forward-thinking is a key driver in overcoming the many health challenges we face every day to better care for the communities we serve. This recognition reinforces our commitment to leveraging technology and creativity to redefine health care delivery."
Dr. Brown oversees Northwell Health Solutions' clinical programs, where she and her teams design and execute innovative care management and care navigation programs for Northwell's at-risk populations. For example, she created the Maternal Outcomes (MOMs) Navigation program, featuring care navigators who were augmented by clinically integrated chat-bot technology. The MOMs program reduced hospitalizations caused by pregnancy-related, life-threatening problems by 47 percent among participating women, including 69 percent among Black women. This work is part of Northwell's Center for Maternal Health, which aims to reduce the region's maternal mortality rate and address health risks facing Black women, who are three times more likely to die from pregnancy-related causes than whites.
Most recently, Dr. Brown and her team launched a new remote patient monitoring (RPM) to monitor blood pressure and other vitals at home to avoid disease escalation and emergency services in the short term and health and wellness over the lifetime of the patients. Dr. Brown's programs are rooted in proactive value-based care to engage and support patients through their health care journey, preventing disease, better managing chronic conditions, and avoiding preventable hospitalization.
Dr. Brown is an advocate and outspoken on the need to address social determinants of health to better care for all communities. The use of artificial intelligence (AI) and data is essential to improve health outcomes. Still, Dr. Brown stresses the need to ensure digital equity to ensure people of color and other underserved communities are not left behind as technology advances.
Dr. Brown has been part of the health system since 2014. She is double board-certified in family medicine and hospice and palliative care. She received her medical degree from Columbia University College of Physicians and Surgeons in New York. She completed a family medicine residency and chief residency at New York-Presbyterian/Columbia University Medical Center. Dr. Brown maintains a clinical practice within Northwell's House Calls program.
"As New York's largest health system with more than 5.5 million patient encounters every year, it is no small task to constantly improve how care is delivered," said Michael Dowling, president and CEO of Northwell Health. "But, under Dr. Brown's innovative leadership and dedication, she is a true force for change in all of the communities we serve."
Modern Healthcare is a weekly business publication targeting executives in the health care industry. It is an independent American publisher of national and regional health care news. The publication is also known for providing statistical rankings, competitive insight and practical information. The Top Innovators program honors leaders and organizations that are instituting innovation and leading transformative programs that achieve measurable results in improving care and contributing to clinical and financial goals.
About Northwell Health
Northwell Health is New York State's largest health care provider and private employer, with 21 hospitals, about 900 outpatient facilities and more than 12,000 affiliated physicians. We care for over two million people annually in the New York metro area and beyond, thanks to philanthropic support from our communities. Our 85,000 employees – 18,900 nurses and 4,900 employed doctors, including members of Northwell Health Physician Partners – are working to change health care for the better. We're making breakthroughs in medicine at the Feinstein Institutes for Medical Research. We're training the next generation of medical professionals at the visionary Donald and Barbara Zucker School of Medicine at Hofstra/Northwell and the Hofstra Northwell School of Nursing and Physician Assistant Studies. For information on our more than 100 medical specialties, visit Northwell.edu and follow us @NorthwellHealth on Facebook, Twitter, Instagram and LinkedIn.
Contacts
Matthew Libassi
631-793-5325
[email protected]
Source : https://www.businesswire.com/news/home/20230922768017/en/Northwell-Health%E2%80%99s-Dr.-Zenobia-Brown-Named-to-Modern-Healthcare%E2%80%99s-2023-Top-Innovators-List