20 June 2023
Education Fund for African Students in Energy
The African Energy Chamber launches its annual Energy Scholarship Award under efforts to expand the participation of youth in energy.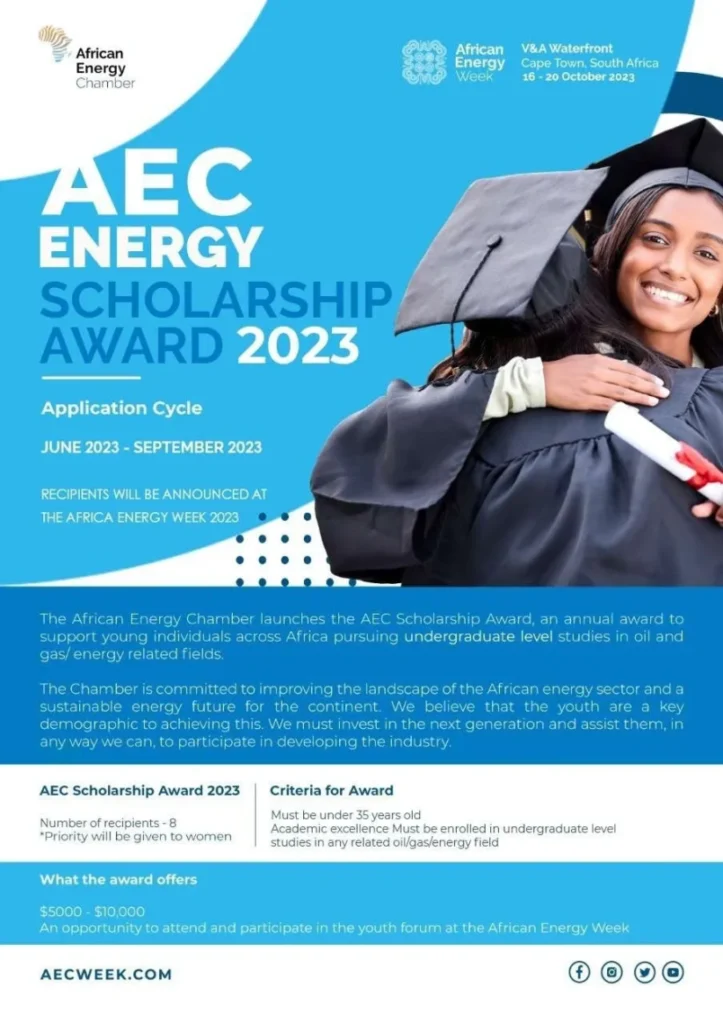 The African Energy Chamber launches its annual Energy Scholarship Award under efforts to expand the participation of youth in energy.
We are thrilled to announce the launch of the AEC African Energy Education Fund, an annual program aimed at supporting young individuals across Africa who are pursuing undergraduate studies in oil, gas and energy-related fields. The application cycle for the scholarship award runs from June 2023 to 31 August 2023, and the recipients will be announced at African Energy Week 2023, the AEC's premier event for Africa's energy sector.
The funds comes at a critical time when Africa is witnessing rapid advancements in gas and renewable energy, presenting immense opportunities for economic growth and environmental sustainability. Recognizing the importance of harnessing these opportunities and equipping the next generation with the necessary knowledge and skills, we are committed to providing financial aid and educational resources to talented African students from South Africa to Egypt, Ivory Coast, Nigeria, Namibia and across Africa pursuing studies in energy-related fields.
Through strategic partnerships with educational institutions, the Chamber will offer scholarships, grants, and mentorship programs to deserving students on the continent and those studying in the diaspora. This holistic approach to support aims to nurture the brightest minds in the energy sector, enabling them to contribute effectively to the continent's energy transition and project development landscape. By investing in education and professional development, the Fund aims to create a new generation of skilled professionals who will contribute to Africa's energy transformation and project development including gas, nuclear, hydrogen an dother renewable energies projects.
As an organization dedicated to improving the African energy sector and fostering a sustainable energy future for the continent, the Chamber recognizes the importance of investing in youth and supporting heightened participation and excellence. The Chamber firmly believes that the younger generation plays a pivotal role in shaping the industry and driving its development. Therefore, it is committed to supporting and empowering young individuals who demonstrate academic excellence and a passion for contributing to the energy sector.
The AEC Energy Education Fund 2023 recognizes and rewards 8 exceptional students, with special consideration given to female students. To be eligible for the award, applicants must under 35 years old and enrolled in undergraduate/postgraduate level studies in any oil, gas or energy-related field. The selection process will primarily be based on academic excellence, ensuring that recipients have demonstrated exceptional performance in their studies.
In addition to the recognition and prestige associated with the AEC Energy Scholarship Award, the recipients will receive financial support ranging from $5,000 to $10,000. This funding is intended to ease the financial burden of pursuing higher education and enable the scholars to focus on their studies and professional development in the energy sector.
Furthermore, the awardees will be given a unique opportunity to attend and actively participate in the youth forum at AEW 2023 – representing the biggest gathering of energy stakeholders on the continent and taking place in Cape Town from 16-20 October 2023. This forum serves as a platform for young professionals to engage with industry leaders, share insights, and exchange ideas on the future of the African energy sector. The event itself provides unparalleled networking opportunities for up and coming entrepreneurs, allowing delegates to make key connections that will fast-track careers and contributions. The recipients of the AEC Energy Scholarship Award will gain invaluable engagement opportunities, exposure to industry trends, and the chance to contribute to meaningful discussions that shape the future of energy in Africa.
"When we empower the next generation of energy leaders, we empower Africa. We believe that by empowering young individuals with knowledge and financial support, we are fostering a brighter future for the energy industry in Africa. Through this scholarship, we aim to recognize academic excellence, promote diversity, and provide valuable opportunities for young professionals to engage with industry leaders. Together, we can shape a more inclusive, sustainable, and prosperous energy landscape for Africa," states, NJ Ayuk, Executive Chairman of the AEC.
Speaking about the Fund, Oneyka Cindy Ojogbo, an advisory board member of the Chamber and Fund manager stated "the Energy Education Fund holds great promise for both students and Africa as a whole. By investing in the education and professional development of African students in the energy sector, we are fostering a new generation of skilled professionals who will play a crucial role in driving Africa's energy transformation. This fund not only empowers students to realize their full potential but also bolsters Africa's capacity to meet the increasing demands of sustainable and new energy infrastructure and project development to improve energy access."
The application process for the AEC Energy Scholarship Award 2023 is officially open and interested candidates are encouraged to visit the AEC's official website (www.energychamber.org) or contact [email protected] for further details and application guidelines.
Source : https://energychamber.org/education-fund-for-african-students-in-energy/