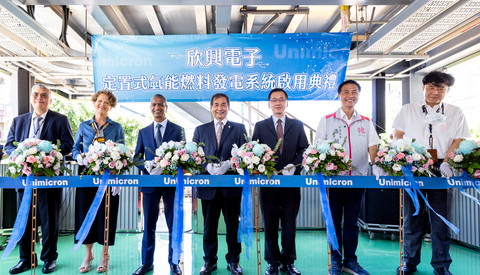 First step in 10 MW Unimicron fuel cell contract commissioned 6 months from order
August 17, 2023 09:00 AM Eastern Daylight Time
SAN JOSE, Calif.–(BUSINESS WIRE)–Bloom Energy (NYSE: BE) has installed the first phase of a 10 megawatt (MW) solid oxide fuel cell contract with Unimicron Technology Corp., a chip substrate and printed circuit board maker (PCB) in Taiwan. The space-saving Energy Server™ installation was delivered within five months from order and commissioned within three weeks from delivery, demonstrating Bloom Energy's ability to quickly dispatch power.
"Bloom Energy is excited to have our first system operating in Taiwan"
Tweet this
The first 600 kilowatt (kW) Energy Server was installed at a Unimicron plant on a platform over existing scooter and motor bike parking, with minimal disruption. It provides clean, reliable power to Unimicron's clean rooms and mission-critical operations.
"Bloom Energy is excited to have our first system operating in Taiwan," said Tim Schweikert, Head of Global Sales, Bloom Energy. "The project demonstrates our ability to quickly deliver power solutions to customers that need immediate power."
Taiwan's energy landscape is undergoing a rapid transition. Centralized coal and nuclear power facilities are being retired, creating strong demand for on-site, clean, reliable power generation. Bloom fuel cells generate electricity from a variety of fuels without combustion and reduce CO2 emissions by 30% with no nitrogen oxides (NOx), sulfur oxides (SOx) or particulate matter. Bloom's deployment will support the Taiwanese economy in other ways as well as Taiwanese companies manufacture a number of key components for Bloom. Taiwan is the fourth Asian country to deploy Bloom fuel cell systems.
Bloom's energy platform can be configured to create a microgrid that can operate alongside an electricity grid, or independently. The modular, space saving design allows for scalability as customer operations grow and require more power. When powered by a fuel source with an underground pipeline system, such as natural gas, they are less susceptible to the impacts of extreme weather, enabling safe, continuous operation and avoiding the costly consequences of unplanned downtime. Bloom's technology also enables customers to plan against price volatility by locking in a large portion of their electricity cost, with multiple financing options and flexible term lengths.
"The installation of Bloom Energy's 600 kilowatt solid oxide fuel cell power generation system went very smoothly," said Dave Yang, Senior Vice President, Unimicron Technology. "The spirit of the contract has been 100% achieved in terms of project management, power generation efficiency, equipment availability and safety. We are very satisfied, and in fact we have begun the installation of two larger-capacity Bloom fuel cell systems at other Unimicron plants. I believe these systems will be completed before the end of this year, which aligns with Unimicron's consistent commitment to the social responsibility of energy conservation and emissions reduction."
Forward-Looking Statements
This press release contains certain forward-looking statements that are subject to the safe harbor provisions of the Private Securities Litigation Reform Act of 1995. Forward-looking statements generally relate to future events or our future financial or operating performance. In some cases, you can identify forward-looking statements because they contain words such as "anticipate," "believe," "could," "estimate," "expect," "intend," "may," "should," "will" and "would" or the negative of these words or similar terms or expressions that concern Bloom's expectations, strategy, priorities, plans or intentions. These forward-looking statements include, but are not limited to, Bloom's expectations regarding the collaboration with Unimicron, including plans to install solid oxide fuel cells sites selected by Unimicron, any expected benefits from the collaboration with Unimicron, such as carbon emissions reductions, increased energy efficiency, or satisfying any clean energy or power savings requirements by the Republic of China or regulatory agencies, progress towards any net-zero emissions, decarbonization or energy independence goals, and the cost, safety and availability of power provided by the microgrid. More information on potential risks and uncertainties that may impact Bloom's business are set forth in Bloom's periodic reports filed with the SEC, including its Annual Report on Form 10-K for the year ended December 31, 2022, filed with the SEC on February 21, 2023, and its Quarterly Reports on Form 10-Q for the quarters ended March 31, 2023, as well as subsequent reports filed with or furnished to the SEC from time to time. Bloom assumes no obligation to, and does not currently intend to, update any such forward-looking statements.
About Bloom Energy
Bloom Energy empowers businesses and communities to responsibly take charge of their energy. The company's leading solid oxide platform for distributed generation of electricity and hydrogen is changing the future of energy. Fortune 100 companies around the world turn to Bloom Energy as a trusted partner to deliver lower carbon energy today and a net-zero future. For more information, visit www.bloomenergy.com.
Contacts
Media Contact:
Virginia Citrano
[email protected]
Investor Relations:
Ed Vallejo
267.370.9717
[email protected]
Source : https://www.businesswire.com/news/home/20230817189182/en/Bloom-Energy-Installs-First-Fuel-Cells-in-Taiwan